Breaded Vegetables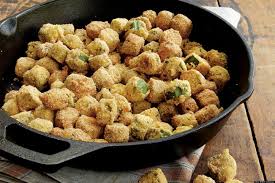 Champion Foods offers a wide variety of breaded vegetables. Breaded or battered, these vegetables are nutritious and delicious! We are able to source many different products that are available in both retail and food service packs. Like all of our products, our breaded vegetable selections can also be made available for private label packaging.
Some of our breaded vegetable options include:
Breaded Okra
Battered Green Beans
Breaded Squash
Breaded Corn Nuggets
Battered Asparagus
Tempura Coated Vegetables
Preformed Onion Rings
Natural Onion RIngs
Fried Green Tomatoes
Champion Foods supplies our clients with the highest quality breaded vegetables. Contact us to learn more.